Animal activists blast officials for using live reindeer at Plymouth holiday event
Ed Wright
Published 1:56 p.m. ET Jan. 7, 2020 | Updated 2:00 p.m. ET Jan. 7, 2020
Animal-rights activists are decrying the presence of a live reindeer last month at a downtown Plymouth holiday event, arguing it posed a dangerous threat to the public and the health of the animal.
Michigan State Director of The Humane Society of the United States Molly Tamulevich and four other advocates addressed the Plymouth City Commission Monday, urging the commissioners to create an ordinance prohibiting future live-animal exhibits, emphasizing that placing an animal in an out-of-its-element setting is potentially harmful to the public and the welfare of the animal.
Read the full article here.
---

Debra Levantrosser, owner of the Shimmy Shack, and Faith Frontera stopped by the Fox2 Kitchen Saturday morning to share the new line of vegan and gluten free cupcakes and to preview their new 2020 calendar.
To see this on Fox2Detroit click here.
---
Shimmy's version of Jingle Bells
---
Shimmy's version of Rudolph the Red Nosed Reindeer
---


From Fox2Detroit:
Meatless Monday with Shimmy Shack
Shimmy Shack Food Truck's Debra Levantrosser joined us on The Nine for Meatless Monday and to talk about their upcoming seven-year anniversary party. 
To see this on Fox2Detroit click here.
---

From Fox2Detroit:  Shimmy Shack, Michigan's first and only 100 percent vegan and gluten-free food truck and restaurant, will host Michigan's first-ever all vegan and all gluten free prom for adults tonight from 7:30-10:30 p.m.
Tickets are $45 each and include: dancing with live music, goodie bags, jungle juice and a buffet including cheezy spinach salad, baked noodle casserole, Indian lentils and rice and mini cupcakes.
Owner Debra "Shimmy Mama" Levantrosser, visited the Fox2 Kitchen Saturday morning to preview the event and to share some of her signature menu items.
To see this on Fox2Detroit click here.
---

Is it Vegan, or Not?
There's a lot of options when it comes to selecting a menu for vegan diet. But how do you  now if what you're eating is actually vegan? It's not as simple as you think, as our Fox2 News anchors found out with the help of expert Debra Levnatrosser, also known as the 'Shimmy Mama' in the Fox2 Kitchen Sunday morning.
Watch the video above to see more.
Original story here.
---

Shimmy Shack restaurant opening this week
Posted Feb 25 2019 02:09PM EST
Video Posted Feb 25 2019 01:58PM EST
(FOX 2) – Shimmy Shack is known for its vegan and gluten free food truck. They're opening their first brick and mortar location this week in Plymouth.
Shimmy Shack Owner Debra Lavantosser joined us on The Nine to tell us more about their food and the new restaurant. You can hear from her in the video player above, and get their firehouse chili recipe below.
3 TBSP Oil (or water)
1.5 lbs sweet potatoes (diced) soaked in lime juice and water
3 cups onion of choice (diced)
1/3 cup minced garlic
12 ounces chopped chiles
2.5 TBSP cumin
1.5 Tsp salt (optional)
1.5 TBSP chili powder
3 TBSP lime juice
1.5 TBSP chipotle
8 cups diced tomatoes (fresh or canned)
4 cans black beans
¼ gallon water
1 bunch cilantro
1. Chop the cilantro in food processor, set aside
2. Sweat the potatoes, onions, garlic and salt in olive oil (or water)
3. Add seasonings, tomatoes, chiles and water.
4. Simmer for 20-30 minutes
5. Add beans and lime juice
6. Simmer another 30-40 minutes or until it thickens to a chili consistency
7. Remove from heat, stir in the cilantro
8. Eat with a smile on your face! And a fire in your belly
Article can be found here.
---

January 22, 2019  Dana Casadei
Come late January, the inside of Shimmy Shack's first brick-and-mortar – located at 1440 Sheldon Road, Plymouth – will be filled with rooms similar to a house in the 1950s, complete with the TV trays and record player to match, and food that probably wasn't made much in the era. "Our whole mission is to dispel the myth that vegan and gluten-free food is boring and bland," said owner Debra Levantrosser. They've done that for the last six years already with their food truck, which will still be used for larger events. Everything offered on the food truck will be at the restaurant – with a few additions. Levantrosser said they will offer rotating soups, new desserts, and are going to do Freaky Friday, a dish that will be offered all day – but guests will only know the mystery dish is vegan and gluten-free. "It's going to be sort of an Iron Chef, whatever we have in the kitchen kind of thing," said Levantrosser, a vegan for 29 years. FYI – no one will be riding around on roller skates.
Article can be found here.
---
 
Shimmy Shack food truck expands to new restaurant in Plymouth
(WJBK) – On meatless Monday, Shimmy Shack is here making their bestselling gluten free cookies the Cowgirl Cookie.
Cowgirl Cookies  Makes 23 cookies
4 cups all-purpose gluten-free flour
2 tsp baking soda
2 tsp baking powder
1 ½ tsp salt
2 cups vegan margarine, softened (we usually use Earth Balance)
2 cups unsweetened peanut butter
1 ½ cups cane sugar
1 ½ cups packed light brown sugar
2 cups unsweetened applesauce
2 tsp pure vanilla extract
5 cups gluten-free quick cooking oats
4 cups semisweet vegan chocolate chips
2 cups coarsely chopped walnuts (toasted)
Line a baking sheet with parchment paper or silicone mat. Heat oven to 350°.
Combine flour, baking soda, baking powder, and salt. Set aside.
Spread the walnuts on a baking sheet and roast in the oven at 500 degrees for 5-10 minutes. (keep checking).
In a large mixing bowl, beat margarine and peanut butter with cane and brown sugars until creamy. Beat in vanilla and applesauce until smooth. Slowly stir in the flour mixture. Then stir in oats, chocolate chips and nuts until incorporated. Drop cookie dough by ½ cup size scoop-fulls onto the baking sheet, no need to flatten. Bake for 16-18 minutes, until lightly browned.
Original article can be found here.
---

Vegan fast food restaurant Shimmy Shack to open in January
by Tom PerkinsJanuary 07, 2019 at 10:19 AM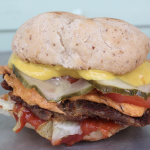 The long wait for the brick and mortar version of Shimmy Shack is nearly over as the restaurant prepares for a late January opening.
Owner Debra Levantrosser tells Metro Times the Plymouth Township location has passed all its inspections, and she and her staff will spend the next few weeks training employees and making final preparations. However, no firm opening date is yet set.
When the doors do open, you'll find much of what the company has made its name on as a food truck — a retro, 1950s diner now with counter service and dine-in seating.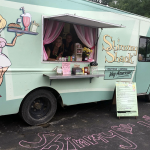 Shimmy Shack bills itself as metro Detroit's only 100-percent vegan and gluten-free food truck. It launched in 2013 and was named one of the nation's top five trucks by PETA.
The menu includes items like a coney dog smothered with black bean chili, mustard, and onions on a warm gluten-free hot dog bun. It also offers burgers like the Southwest Burger, made with a house-made black bean and rice patty topped with guacamole and salsa, and the Classic Burger – its version of a fast-food cheeseburger. The truck also serves french fries, sweet potato fries, chili fries, and chili cheese fries with special sauces.
For dessert, Levantrosser makes shakes that come in chocolate, pumpkin, strawberry, and cookie monster, and she also recently introduced a line of vegan cookies. Those include the Cowgirl Cookies (chocolate chips, oats, toasted walnuts and peanut butter); Chocolate, Caramel, and Coconut (vegan shortbread cookie sprinkled with toasted coconut and drizzled with chocolate and housemade caramel); and Strawberry Loveprint (a sugar cookie topped off by Shimmy's "loveprint" — a vegan strawberry jam heart).
The new restaurant is located near Ann Arbor and Haggerty roads in Plymouth Township. Check back for an update on the grand opening date.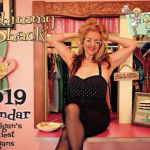 Levantrosser also announced the return of Michigan's Sexiest Vegans calendar 2019 edition. For more info, check out Shimmy Shack's website.
Article found here.
---

Vegan and gluten-free Shimmy Shack expands with brick and mortar restaurant in Plymouth
Restaurateur Debra Levantrosser knows that eating vegan isn't just a fad.
Owner of the Shimmy Shack food truck, which serves a totally vegan and gluten-free menu, Levantrosser has been eating a plant-based diet that is free of animal products for nearly 30 years.
For the past five years that she's been running the truck, Levantrosser has seen the demand for her food grow, and she's gearing up to open a brick-and-mortar Shimmy Shack restaurant later this month in Plymouth. She said she chose this suburb after doing her research.
"When I did the research on where the vegan restaurants currently are, and where there were gaps and where there is a population of vegan people, it really became clear to me that Plymouth was the perfect location," she said. The chef was trying to find a location with a drive-through window, but that proved to be nearly impossible. Instead they've nestled in a former consignment shop in a strip mall at 1440 Sheldon in Plymouth.
The Shimmy Shack restaurant will serve the same plant-based menu folks familiar with the food truck have come to crave, including a falafel pita, "burgers" and fries, nachos and vegan shakes. Again, the food is plant-based and gluten-free, making the whole menu fair game for diners with those kinds of dietary restrictions.
Levantrosser says her burger, which is her top seller, is made with a lentil and brown rice patty and topped with vegan melted cheese along with the standard burger toppings. The vegan cheese is tapioca-based and Levantrosser describes it as "freaking amazing." The milkshakes — chocolate, strawberry and cookie monster — are made with soy and rice milk.
The vegan chef sees her business as a restaurant and food truck that is unique and fun, and just happens to be vegan and gluten-free. She's hoping that with the opening of the brick-and-mortar Shimmy Shack will help build a community with a space for kids, a vegan marketplace and parties like a vegan trick-or-treating event near Halloween.
The vibe in the cafe will be casual, with fast counter service instead of table-side service. The decor will be a mix of 1950s vintage, re-purposed and up-cycled decor (no leather).
Shimmy Shack in Plymouth is expected to open by the end of the month. Visit shimmyshack.com for updates. Once open, the shack will have service 10:30 a.m.-8 p.m. Mon.-Thurs. and 10:30 a.m.-9 p.m. Fri.-Sat. Sunday will be available for private events only, such as birthday parties and showers.
mbaetens@detroitnews.com
---

Shimmy Shack vegan food truck drawing long lines in Jackson
JACKSON, MI – One of Michigan's most popular vegan food trucks is causing a stir in Jackson this summer.
Shimmy Shack's signature light green finish and 1950s atmosphere is a regular sight at the "Food Truck Tuesday" events, hosted by Consumers Energy. And the food truck has been drawing some of the longest lines there…
---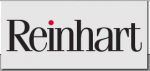 THE REINHART BLOG
The 15 Food Trucks You Have to Try in Ann Arbor This Summer
Track them down on Facebook
Always vegan and always gluten-free, the food at Shimmy Shack turns vegetarian and vegan food stereotypes on their heads. Featuring American classics like burgers, coneys, chili, fries and milkshakes, the menu includes mouthwatering descriptions like homemade sweet potato-black bean chili and a grilled lentil patty topped with vegan cheese.
To see the entire article, click here.
---

Thieves steal cash, electronics from the Shimmy Shack vegan food truck
Posted By Tom Perkins on Wed, May 9, 2018 at 8:59 am
Misfortune has struck the Shimmy Shack vegan food truck for a second time in under a year.
Owner Debra Levantrosser says someone broke into the truck while it was parked in the South Lyon VFW Hall parking lot and stole over $500 worth of cash and electronics.
 The incident comes just nine months after someone poured what appears to be anti-freeze or some kind of red liquid into the truck's gas tank in South Lyon.
"This is sad and a bit frustrating" Levantrosser says. "We are simply trying to do our part to end animal suffering and someone seems intent on breaking our spirits, which they won't. We hope whoever committed the crime now has money for food but we really wish they hadn't taken our things. We work very very long hours to make the little money that we do and when people take the things we have worked hard for, it is frustrating. It feels like someone took the wind out of our sails."
Shimmy Shack is planning an Aug. 1 opening for its new brick and mortar location near Ann Arbor and Haggerty roads in Plymouth Township. Thankfully, not South Lyon.
The mint green, retro restaurant has an American diner feel and serves vegan and gluten-free versions of classics like burgers, coney dogs, and nachos. PETA named it one of the top five vegan food trucks in America in 2015.
Anyone with information is asked to call the South Lyon Police.
For more information, check out Shimmy Shack's Facebook page and website for its calendar of upcoming events and locations.
---
 
April 20, 2018 10:05 a.m.
Shimmy Shack settles down
The free-wheeling Shimmy Shack is settling down in a new Plymouth Township location.
The popular vegan food truck is targeting Aug. 1 to open its first brick-and-mortar restaurant at the corner of Ann Arbor and Sheldon roads, owner Debra Levantrosser said. The move has been in the works for the mobile food purveyor since 2013.
The restaurant will have a walk-up counter like a typical fast food restaurant, and there will be seating in a "'50s-style setting" for a quick sit-down bite. In addition, a "vegan marketplace" will be available for birthdays and special presentations, the release said.
Levantrosser said $100,000 will be invested into the 1,620 square-foot building.
On the menu will be the usual truck favorites, including a Coney dog smothered with black bean chili, mustard and onions blanketed on a gluten-free bun. Chocolate, strawberry and cookie monster shakes will be offered as well.
The truck isn't going away; it will still be frequenting the streets of metro Detroit, staying true to its roots.
---

Sunday's VegFest in Novi will help visitors explore a plant-based lifestyle
---

'50s Style Vegan Diner Opens in Michigan
---

Vegan food truck Shimmy Shack will launch a brick and mortar space in August 2018
---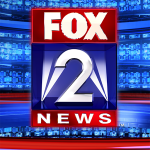 Shimmy Shack's Special (Veg) Roasting recipe
(WJBK) – Shimmy Shack is Michigan's first and only 100 percent vegan and gluten-free food truck.
Debra Levantrosser joined us on The Nine with one of her roasting recipes that you can make at home. Click here to get her recipe.
Shimmy Shack has their annual calendar for sale now, too. This year it's a bit more cubicle-friendly but is still just as sassy. Models in the calendar are, by design, not professional models, but rather female and male vegans from southeast Michigan.
---
(WJBK) – Debra Levantrosser from Shimmy Shack joined us on The Nine to show us how they make their garlic sauce. You can get her recipe below.
Shimmy Shack is Michigan's first 100 percent vegan and gluten free food truck. For more information, visit www.shimmyshack.com.
---

Vandals pour liquid into gas tank of Shimmy Shack food truck in South Lyon
July 28, 2017
SOUTH LYON, Mich. – A food truck parked in South Lyon was vandalized when someone poured a red liquid into the gas tank.
The truck was parked at the South Lyon VFW Tuesday night. Late Tuesday or Wednesday morning, someone put what is believed to be Gatorade in the truck's tank.
---

'Sexy vegans' aim to debunk stereotypes, aid farm
September 16, 2016
---

Vegging Out Takes on New Meaning with Erie's First Ever VegFest
September 14, 2016
---

The Shimmy Shack 'Sexiest Vegans' calendar is back
September 9, 2016
---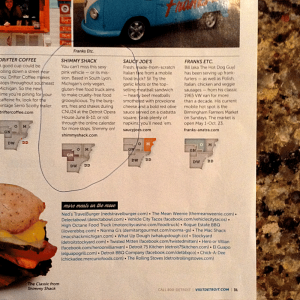 "You can't miss this sexy pink vehicle – or its mission. Based in South Lyon, Michigan's only vegan, gluten-free food truck aims to make cruelty-free food groovylicious.  Try the burgers,f rioes and shaeks during CNU at Detroit Opera House June 8-10, or roll through the online calendar for more stops. Shimmy on!  shimmyshack.com"
---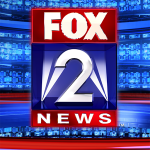 POSTED: JUN 12 2017 01:17PM EDT
UPDATED: JUN 12 2017 01:35PM EDT
DETROIT (WJBK) – A kickoff event was held at Campus Martius on Monday to mark the first day of Men's Health Week.
"Blue Monday" was held downtown Detroit from 11 a.m. to 2 p.m.
The event, a partnership between Detroit Parks and Recreation Department and Healthy Detroit, included free health screenings, games, food, yoga, music and prizes. For recipe visit 
HERE
For recipe visit 
HERE
For recipe visit 
HERE
---

Shimmy Shack is included in Baron Magazine's 
"40 Vegan and Vegetarian Restaurants to Discover in Detroit and Michigan"
SpringFest emphasizes new sustainability practices
April 13, 2016
---
Free Press Article
September 2, 2013