Thieves steal cash, electronics from the Shimmy Shack vegan food truck
Posted By Tom Perkins on Wed, May 9, 2018 at 8:59 am
Misfortune has struck the Shimmy Shack vegan food truck for a second time in under a year.
Owner Debra Levantrosser says someone broke into the truck while it was parked in the South Lyon VFW Hall parking lot and stole over $500 worth of cash and electronics.
 The incident comes just nine months after someone poured what appears to be anti-freeze or some kind of red liquid into the truck's gas tank in South Lyon.
"This is sad and a bit frustrating" Levantrosser says. "We are simply trying to do our part to end animal suffering and someone seems intent on breaking our spirits, which they won't. We hope whoever committed the crime now has money for food but we really wish they hadn't taken our things. We work very very long hours to make the little money that we do and when people take the things we have worked hard for, it is frustrating. It feels like someone took the wind out of our sails."
Shimmy Shack is planning an Aug. 1 opening for its new brick and mortar location near Ann Arbor and Haggerty roads in Plymouth Township. Thankfully, not South Lyon.
The mint green, retro restaurant has an American diner feel and serves vegan and gluten-free versions of classics like burgers, coney dogs, and nachos. PETA named it one of the top five vegan food trucks in America in 2015.
Anyone with information is asked to call the South Lyon Police.
For more information, check out Shimmy Shack's Facebook page and website for its calendar of upcoming events and locations.
---
 
April 20, 2018 10:05 a.m.
Shimmy Shack settles down
The free-wheeling Shimmy Shack is settling down in a new Plymouth Township location.
The popular vegan food truck is targeting Aug. 1 to open its first brick-and-mortar restaurant at the corner of Ann Arbor and Sheldon roads, owner Debra Levantrosser said. The move has been in the works for the mobile food purveyor since 2013.
The restaurant will have a walk-up counter like a typical fast food restaurant, and there will be seating in a "'50s-style setting" for a quick sit-down bite. In addition, a "vegan marketplace" will be available for birthdays and special presentations, the release said.
Levantrosser said $100,000 will be invested into the 1,620 square-foot building.
On the menu will be the usual truck favorites, including a Coney dog smothered with black bean chili, mustard and onions blanketed on a gluten-free bun. Chocolate, strawberry and cookie monster shakes will be offered as well.
The truck isn't going away; it will still be frequenting the streets of metro Detroit, staying true to its roots.
---

Sunday's VegFest in Novi will help visitors explore a plant-based lifestyle
---

'50s Style Vegan Diner Opens in Michigan
---

Vegan food truck Shimmy Shack will launch a brick and mortar space in August 2018
---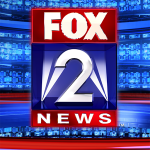 Shimmy Shack's Special (Veg) Roasting recipe
(WJBK) – Shimmy Shack is Michigan's first and only 100 percent vegan and gluten-free food truck.
Debra Levantrosser joined us on The Nine with one of her roasting recipes that you can make at home. Click here to get her recipe.
Shimmy Shack has their annual calendar for sale now, too. This year it's a bit more cubicle-friendly but is still just as sassy. Models in the calendar are, by design, not professional models, but rather female and male vegans from southeast Michigan.
---
(WJBK) – Debra Levantrosser from Shimmy Shack joined us on The Nine to show us how they make their garlic sauce. You can get her recipe below.
Shimmy Shack is Michigan's first 100 percent vegan and gluten free food truck. For more information, visit www.shimmyshack.com.
---

Vandals pour liquid into gas tank of Shimmy Shack food truck in South Lyon
July 28, 2017
SOUTH LYON, Mich. – A food truck parked in South Lyon was vandalized when someone poured a red liquid into the gas tank.
The truck was parked at the South Lyon VFW Tuesday night. Late Tuesday or Wednesday morning, someone put what is believed to be Gatorade in the truck's tank.
---

'Sexy vegans' aim to debunk stereotypes, aid farm
September 16, 2016
---

Vegging Out Takes on New Meaning with Erie's First Ever VegFest
September 14, 2016
---

The Shimmy Shack 'Sexiest Vegans' calendar is back
September 9, 2016
---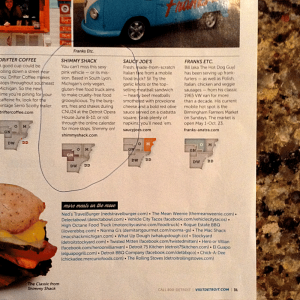 "You can't miss this sexy pink vehicle – or its mission. Based in South Lyon, Michigan's only vegan, gluten-free food truck aims to make cruelty-free food groovylicious.  Try the burgers,f rioes and shaeks during CNU at Detroit Opera House June 8-10, or roll through the online calendar for more stops. Shimmy on!  shimmyshack.com"
---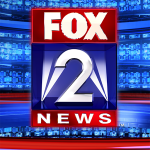 POSTED: JUN 12 2017 01:17PM EDT
UPDATED: JUN 12 2017 01:35PM EDT
DETROIT (WJBK) – A kickoff event was held at Campus Martius on Monday to mark the first day of Men's Health Week.
"Blue Monday" was held downtown Detroit from 11 a.m. to 2 p.m.
The event, a partnership between Detroit Parks and Recreation Department and Healthy Detroit, included free health screenings, games, food, yoga, music and prizes.
For recipe visit HERE
For recipe visit 
HERE
For recipe visit 
HERE
---

Shimmy Shack is included in Baron Magazine's 
"40 Vegan and Vegetarian Restaurants to Discover in Detroit and Michigan"
SpringFest emphasizes new sustainability practices
April 13, 2016
---
Free Press Article
September 2, 2013