Sharon Dargay, hometownlife.com 7:44 a.m. EDT September 16, 2016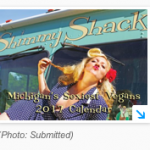 According to Debra Levantrosser's calendar, 2017 will be the year of the sexy vegan and rescued farm animal.
Levantrosser, owner of Shimmy Shack food truck, recently launched the "2017 Sexiest Vegans in Michigan" wall calendar. Sold through Shimmy Shack's website and at the truck, the calendar includes photographs of vegans, both men and women, with farm animals at Sasha Farm, an animal sanctuary in Manchester.
Shimmy Shack released its own calendar in 2015 and 2016, but this is the first time it has partnered with Sasha Farm. Fifty percent of profits from the sale of the 2017 calendar will go to the animal sanctuary and another 10 percent will be donated to the Jim Ward Scholarship at the Center for Creative Studies. Ward, who died last year, was a partner in the food truck, which is based in South Lyon.
"Sasha Farm's values match our values. We believe animals have personalities and deserve love. To us, eating a pig is the equivalent of eating a dog. If people got to know pigs, they'd see pigs have personalities, just like dogs, and the same with cows," Levantrosser said. "We like what Sasha Farm does and how they do it."
Levantrosser also hopes the calendar also puts a face on veganism. Vegans follow a plant-based diet that excludes animal products such as dairy foods. They also may refrain from using items, such as leather shoes or purses, that contain animal products.
"We believe veganism is often misunderstood and misinterpreted," Levantrosser said. "We're trying a multitude of ways to reach people, to show that vegans are fun, sexy, smart and we thought the calendar was an additional way to reach people, to visually show and highlight great people we have in southeast Michigan who are vegans.
"I think vegans are often seen as strange, hippies, liberal, and while some vegans may be those things, not all of us are. We're very diverse. There have been stereotypes attached to vegans and those are the stereotypes we're trying to break."
Vegans were selected for the calendar through an application process via social media. Applicants indicated how long they have been vegan, explained why they wanted to be in the calendar, and identified their favorite Shimmy Shack menu item. Levantrosser said the models ranged in age from 18 to 50-plus.
"We even have a centerfold of nudes — just their backs — but it's a very cool photo of seven women on a big baler."
The calendars cost $18. Find a list of Shimmy Shack events and buy the calendar at shimmyshack.com.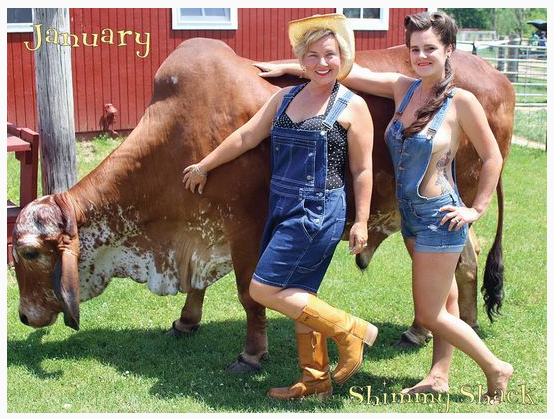 Vegans and their four-legged friend model for the 2017 calendar at Sasha Farm. (Photo: Submitted)