---
When you spend $15 or more at Shimmy Shack Restaurant.
CLICK HERE for coupon (printed coupon must be presented
at time of payment at restaurant only.  Cannot be used at food truck.
Expires 9/30/2020.)
---



CALL 734 228 5990
FOR TAKE-OUT




CLICK ABOVE TO
DONATE TO SHIMMY CUPBOARD



---
Shimmy Shack Hours
Tuesday 12 – 2 and 5 -7
Wednesday 12 – 2 and 5 -7
Thursday 12 – 2 and 5 -7
Friday 12 – 2 and 5 -7
Saturday 12 – 7
Sunday 12 – 2
Closed Monday for baking
Order carry-out @ 734 228 5990 or order on-line with Door Dash for delivery
*Full Menu based on Availability
---
Tell us if we rock your world.
Take our survey by clicking the link in the menu above!
---
---
Welcome to Shimmy Shack! We roll as Michigan's first and only 100% vegan and gluten free food truck and restaurant (but you'd never know it from how tasty and sexy our food is!).  Omnivores, Flexitarians, Vegetarians and Vegans ALL love our food and we have proof.   Shimmy Shack is all about reducing animal suffering, making a healthier food choice for your insides and outside and having a positive impact on the environment.  Every time you come to Shimmy Shack you are doing all three of these things and we love it!  Not to mention that we are removing the stigma attached to the word 'vegan' and showing how awesome, tasty, sexy and filling vegan food can be.  We've been told our food is seriously addicting. See our menu here.  So shuffle, shake or shimmy over to see us and try some delish eats!! 100% VEGAN AND 100% GLUTEN FREE!!  See our world-changing vision and mission here.  Have a Shimmylicious Day!  !XOXO,  Shimmy Mama
---
Craving some Shimmy Sweetness? Shimmy cookies are now in 7 stores!
Shimmy over to the nearest one and satisfy that desire!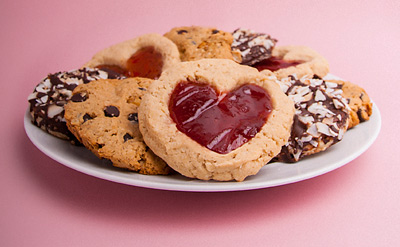 ---
---

For recipe of above and more info click here.
Want to bring a little Shimmy to your birthday party, wedding, or other special occasions? We can do that! Contact us for information on our catering services and rates! Book early, though – Shimmy's social calendar is usually booked up a few months out!