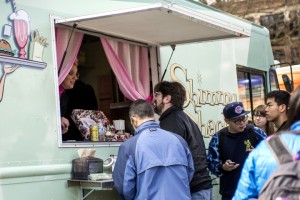 Students gathered on the Diag and around campus Wednesday to celebrate a year's worth of efforts in community service, discuss entrepreneurship initiatives and encourage one another through art and music at SpringFest. The annual event, sponsored by the organization MUSIC Matters, took place on the Diag as well as North University Avenue between Thayer and Fletcher streets.
Along with innovation and philanthropic efforts, the festival also focused on new sustainability initiatives in an effort to introduce environmentally friendly programs to the event and campus as a whole.
LSA junior Matt Fisher, vice president of MUSIC Matters, said the group organizes the event to encourage a unified student body.
"We try to bring together different student organizations, get them to work together, to collaborate with each other, and to give students an opportunity to meet one another and extend beyond the communities that they typically interact with," Fisher said.
Fisher said the success of the newly introduced sustainability initiatives came from a push to continue the group's previous collaboration with other groups on campus.
Many Greek life groups participated as student volunteers in the sustainability drive, such as the sorority Sigma Kappa, which set up a table to distribute 200 free flowerpots and flower seeds. LSA sophomore Becca Berman said the initiative was in concert with Inherit the Earth, Sigma Kappa's environmental program.
"One of our national philanthropies is Inherit the Earth," Burman said. "Today at SpringFest, we decided to sponsor them by providing flowerpots and flowers for people to take home with them."
LSA junior Elizabeth Morand, senior producer of SpringFest, spearheaded the zero-waste portion of the event this year — a program intended to eliminate trash, encourage compostable products and create sustainable initiatives.
"We're really focused on promoting positive social change," Morand said. "It only made sense for us to also be concerned about climate change and the environment; it's just incorporated between the whole idea of social changes."
Morand said she hopes to expand the event and its different components — especially sustainability — in the future. Ideally, Morand said she would like to see the entire SpringFest day become zero-waste.
SonReal, one of the performers at the daytime event, said in an interview he enjoyed his first visit to the University of Michigan, and thought the event was important at a college campus.
"It brings a lot of the students together, and I also think it brings the students together in a way that they don't get a chance to actually do very often, which is bringing them together through art, music," he said. "That's the best way to get to know people and be out and about and enjoy your time as a student."
SpringFest also featured a row of sustainability-driven food trucks parked outside the Michigan League. This included Shimmy Shack — owned by Engineering lecturer Debra Levantrosser — Michigan's first and only vegan and gluten-free food truck.
The Ann Arbor staple attracted crowds of student by selling finger foods like nachos, fries, hummus and pita, as well as a variety of flavored shakes.
Levantrosser, who has had Shimmy Shack for three years, said it has always had an environmental focus.
"We used 100 percent biodegradable and compostable materials for today's event. Also, we are vegan, which is environmentally conscious in and of itself, in terms of what veganism does for the environment," she said.
Levantrosser added that it was more than sustainable food practices that made her business renewable, pointing to the back of the truck.
"As you can see, it says 'this truck eats its veggies!' Our truck runs on biodiesel," Levantrosser said.
Also featured were nonprofits like the Greening of Detroit, an organization aimed at transforming the green spaces in the city, as part of the event's Detroit Village. After the Dutch elm disease devastated much of Detroit's tree canopy, the nonprofit was founded in 1989 to restore greenery in the city. Over the past 27 years, Greening of Detroit has planted 85,000 trees through volunteer efforts. Since then, they have expanded to urban farming and food justice initiatives.
Sue Sulewski, a Greening of Detroit employee, said the organization's goal was to enhance the quality of life for Detroiters by creating green spaces within the urban landscape.
"We have three large urban farms in Detroit. Last year we grew over 15,000 pounds of food and gave half of it away at our giveaways on Tuesday," she said. "Under our 'Move, Grow, Eat' program, we conduct free classes ranging from dance, yoga, seed harvesting and urban home gardening."
Ultimately, Fisher said MUSIC Matters hopes to continue to increase student involvement in the event.
"One of the issues with the University of Michigan is that it's very decentralized and students oftentimes segregate themselves into their own individual communities and don't branch out," Fisher said. "Beyond football Saturdays in the fall, there aren't really any events at Michigan that aim to bring together the entire student body on one day, and MUSIC Matters' SpringFest is one event that really does that well."