TABLE AND BAR                                                                Thursday, April 19, 2018
Vegan food truck Shimmy Shack will launch a brick and mortar space in August
Posted By Tom Perkins on Thu, April 19, 2018 at 845 am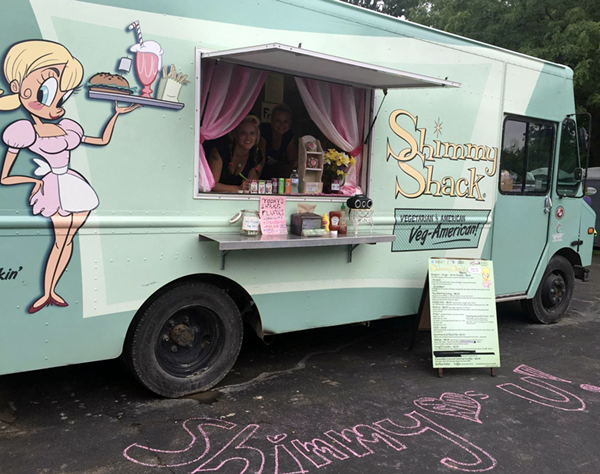 Vegan food truck Shimmy Shack is planning an Aug. 1 opening for its new brick and mortar location near Ann Arbor and Haggerty roads in Plymouth Township.
Owner Debra Levantrosser says the new space will be a fast food concept with counter service, dine-in seating, and a 1950s vibe.
"Our restaurant will pay homage to the cool style of the 1950s, and of course feature our mascot, Shimmy, in all her glory," says Levnatrosser, or "Shimmy Mama," as her fans know her.
Shimmy Shack is metro Detroit's only 100-percent vegan and gluten-free food truck. It launched in 2013 and was named one of the nation's top five trucks by PETA.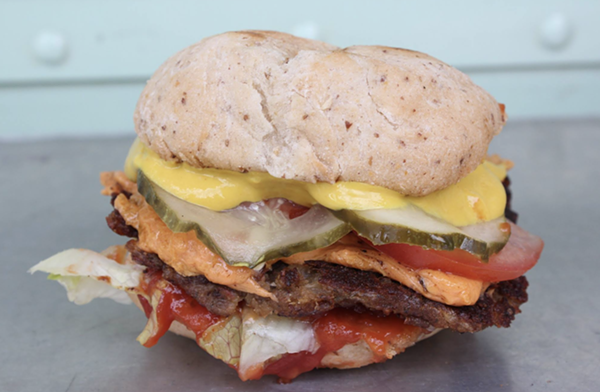 Plans also include a small vegan marketplace at which customers can make gift baskets. That space will be available for rental for birthday parties, speakers will be brought in for special presentations, and Detroit-based vintage company The Velvet Tower will hold a regular vegan vintage pop up (no wool, silk, leather or fur). SHIMMY SHACK/FACEBOOK Shimmy Shack/Facebook
The food truck's menu includes items like a coney dog smothered with black bean chili, mustard, and onions on a warm gluten free hot dog bun. It also offers burgers like the Southwest Burger, with a house-made black bean and rice patty that's topped with guacamole and salsa, and the Classic Burger – its version of a fast food cheeseburger. The truck also serves french fries, sweet potato fries, chili fries, and chili cheese fries with special sauces, as well as shakes that come in chocolate, pumpkin, strawberry, and cookie monster.
"We know that Michigan loves our healthier fast food options because we prove that vegan and gluten-free comfort food can be tasty, filling, satisfying, sassy and leave you wanting more," Levantrosser says. "Every time you eat at Shimmy Shack, you know you are being compassionate towards animals, nice to your body and kind to the environment. We show that living a vegan lifestyle just makes sense."
The original article can be found HERE.