TABLE AND BAR                                                                Thursday, September 8, 2016
The Shimmy Shack 'Sexiest Vegans' calendar is back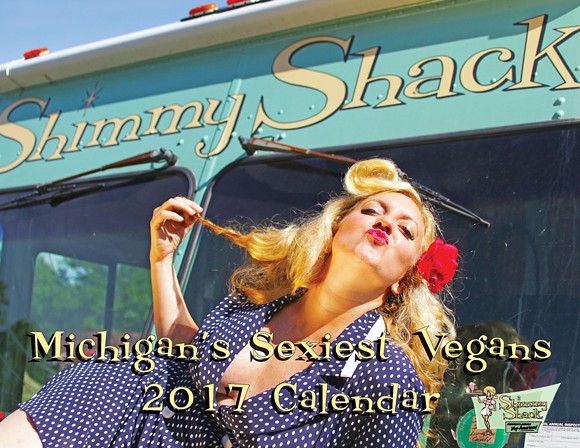 Posted By Serena Maria Daniels on Thu, Sep 8, 2016 at 2:33 pm
Courtesy of Shimmy Shack Here, the cover of the 2017 calendar.
It's that time again to catch a glimpse at just how sexy vegans can truly be. Vegan/gluten-free food truck Shimmy Shack has published its 2017 "Sexiest Vegans in Michigan" calendar, now available for purchase ($18).
Featured in the pin-up style spread are 12 male and female vegans that Shimmy Shack deems the hottest in southeast Michigan. As in years past, proceeds from sales go toward a couple of good causes. The Manchester Mich.-based SASHA Farm (which stands for Sanctuary and Safe Haven for Animals) will get 50 percent of profits, while the Jim Ward Scholarship at the Center for Creative Studies will get a 10 percent cut.
Named in the top 5 vegan food trucks in the US in 2015, Shimmy Shack has made a name for itself as the first and only all-vegan fast food concept in Michigan. Playing off a 50s style diner, the menu features "cheeseburgers" (made with black bean and rice and topped with guacamole and salsa), "chili" fries, and non-dairy (but no less delicious) shakes.
The design of the truck itself also gives off a kitchsy, mid-century aesthetic thanks to the handy work of John Kricfalusi (creator of the cult classic 90s cartoon Ren & Stimpy), who illustrated the mobile diner's buxom waitress character, "Shimmy."
"We know that Michigan loves our healthier fast food option because we prove that vegan comfort food can be sexy, filling, satisfying and leave you wanting more," says owner Debra Levantrosser in a news release announcing the new calendar launch, or Shimmy Mama as her fans call her, Shimmy Shack's owner.
A schedule of Shimmy Shack's stops and details about purchasing calendars can be found at www.shimmyshack.com.